I will prepare your bankruptcy petition for FREE. This way you can best decide if a bankruptcy is right for you. If you are not completely satisfied there is no charge to you.
Chapter 7 and Chapter 13 Bankruptcy Lawyer Memphis, TN
I have practiced law as an attorney for over 40 years in Memphis, Tennessee. I can help you with Chapter 7 bankruptcy questions and Chapter 13 bankruptcy questions. I can help you get rid of most or all of your debt.
Arthur Ray Bankruptcy Lawyer Memphis, TN
I will help you decide which bankruptcy option is best for you if you decide to file. We will file only when you are absolutely confident that filing a bankruptcy is best for your. Remember there is no charge if you decide not to file.
When you come to our office you have free parking right in front of our office. We will do our best to make your visit as pleasant as possible. We have free popcorn and a free cold drink for you when you first come in.
Sincerely yours,
Arthur Ray
Arthur Ray Law Offices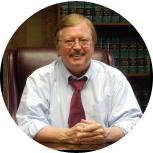 We are a debt relief agency. Our Bankruptcy Lawyers in Memphis, TN help people file for bankruptcy under the bankruptcy code.
*For those who qualify under federal law. **First time filers only.